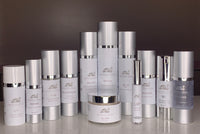 Emma Chan Skincare Range
Our signature skincare range has been specifically developed to maintain good skin health on a daily basis.
Our range fights the first signs of ageing by targeting each layer of the skin to thoroughly hydrate the whole face. The range introduces an affordable clinically proven integrated mix of products that work to achieve brighter and healthier skin.
FREE P&P WHEN YOU BUY ANY TWO PRODUCTS
Explore the range
After a particularly over-indulgent and stressful Christmas/new year, my skin wasn't in the best condition so I booked in with Gemma for a medifacial. Everyone commented on how clear my skin was, and since following up with the Emma Chan reveal glycolic wash, it remains fresh and 'glowy'.

Emma S
I bought a set of products, my skin has been transformed in only a couple of weeks. It makes a refreshing change to deal with a clinic who actually address skin concerns rather than fobbing you off with the fluff and fancy products which smell fabulous but do nothing for your skin! Thank you! I'm so pleased I found this place!

LJ Pilling
Location
The Clinic
10 Matrix Point, Matrix Way,
Buckshaw Village, Chorley.
PR7 7ND
Mon - Thurs, 9am - 7pm
Friday - Sat, 9am - 3pm